Blog post and podcast by Carolina Trestain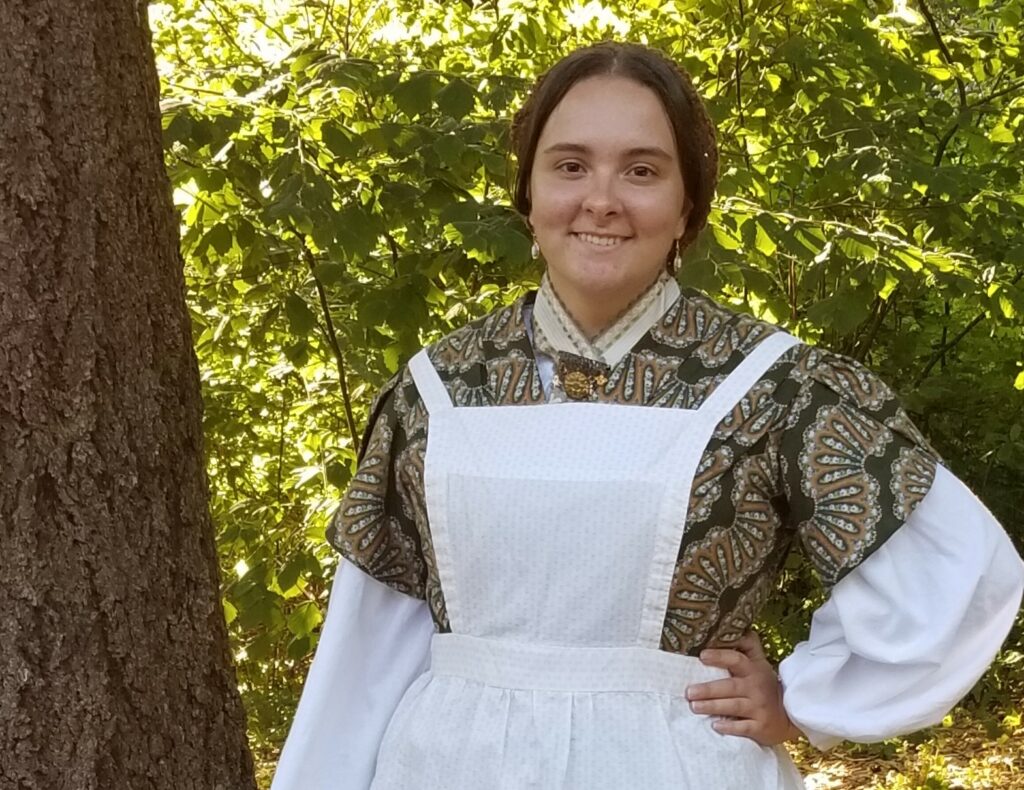 My name is Lina Trestain, and I've just wrapped up my last term of my undergrad in History. I decided to take Dr. Rhodes' History in the Wild because I have never made a podcast, but I like the idea of using them to share information. I have always loved stories, both telling them and listening to them, and have been doing it as a costumed living history interpreter for 17 years. That's since I was about six or seven, if you're wondering. I have been at Fort Vancouver National Historic Site almost that entire time, working with a wonderfully diverse body of volunteers and staff, and have learned so much in that time that simply has to be shared. 
As a young person, I learned from people who grew up doing things the "old way", and spent a lot of time watching and absorbing information from them. I met people with interests that span over a century of time, from the early American fur trade, to the first successful transpolar flight! I wanted to share some of the things that I've learned and to honor those I have learned from and who have built this city and its legacy. 
I plan to continue this podcast in the near future, while I continue learning Pacific Northwest history in graduate school. I hope you'll tune in, and that the podcast inspires you to visit us in Vancouver, USA!
I've been both an academic historian and a history podcaster for about six years. I love doing it and I am constantly confronting the inconsistent (and sometimes conflicting) skill sets required for my parallel roles. I chose the topic of history podcasting for my HST 485 History in the Wild course and designed the course to be as collaborative and applicable as possible to their real-world needs. ASU's humanities students deserve to take courses that harness their passions and natural curiosities so that building a wide variety of skills (our end goal) doesn't feel like work. The podcasts that resulted from this course exceeded my expectations. –Dr. Marissa Rhodes, professor of HST 485: History in the Wild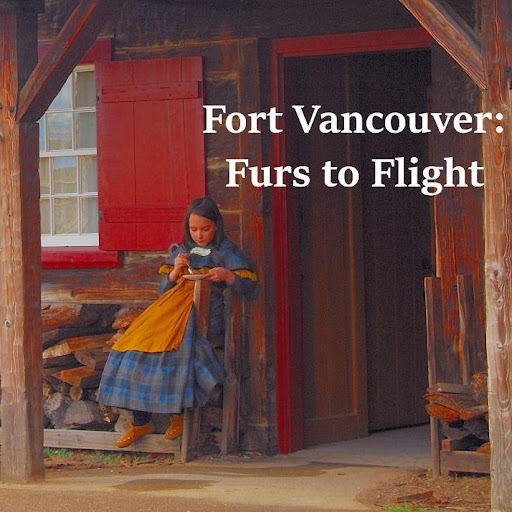 Tagline: Connecting over 100 years of history in a modern way for the modern day.
Title: Fort Vancouver: Furs to Flight
Podcast Topic: History of southwest Washington and northwest Oregon, centered around Fort Vancouver National Historic Site and the eras and geographic regions which it has historically served, from the 1790s to (potentially) modern day.
Titles and descriptions of your two sample episodes:
Episode 1: Who Got Here First?
An informational narrative about the discovery of the Columbia River by Europeans and Americans, brief summary of first contacts, and a short introduction to the Chinook Nation, who would shape the trade interactions of the white settlers soon to flood the area.
Episode X (would be released later in the series, with additional contextual information beforehand): Transpolar Flight!
A narrative, then interview/conversation about the first transpolar flight which landed at Pearson Airfield in Vancouver, WA in 1937. The interviewee has presented her own research project about the flight, and we discuss legacies of the flight, the process of her research, and other takeaways from our research.
Topic Ideas for an additional eight episodes: 
Episode 2: Lewis and Clark
Discussing the journey made through the Columbia Valley by Lewis and Clark, the peoples they interacted with and how, where they stayed and what they did over the winter, and how they left it behind them.
Episode 3: Fur Trade Wars
How did the Hudson's Bay Company come to dominate the Pacific Northwest fur trade? What did fur traders and trappers do? Who did the work? How has trapping changed? I could discuss this with John Salisbury, mountain man and retired Park Ranger, or potentially Micah Hazen, a volunteer who interpreted these subjects and is a fur trapper today (as a hobby).
Episode 4: The Columbia District
Discuss the range that the HBC controlled as fur traders, from where they imported and to where they exported. Touch on who worked for the HBC in the Columbia District. Talk about Governor George Simpson and what a terrible man he was. Explain the significance of the future site of Fort Vancouver in fur trade.
Episode 5: Founding the Fort
Why is the current Fort where it is? Why were there two? What side is the front? How far did they control from their location? What satellite buildings or sites were established? This could potentially be discussed with an experienced park ranger, such as Tessa Langford (Cultural Resources) or Tracy Fortmann (Park Superintendent).
Episode 6: Kanaka Village
What is a kanaka? Who coined the name (and is it appropriate to continue using)? Who lived in the village? Why was it so far away from the main stockade? Generally, discuss who was where, what jobs were done, and the nature of the village.
Episode 7: Chinuk Wawa: How We Talked
Explain the significance of the numerous cultures, languages and peoples who lived in the Village and within the Stockade—How on earth did they communicate? How do we know? This episode should feature an interview with Eric Bernando, an elder of the Confederated Tribes of Grande Ronde, and some contemporary discussion about Chinuk Wawa: As Our Elders Teach Us To Speak It. This is an optimal place for this episode due to its relevance to life in the village, outside of the main stockade of Europeans.
Episode 8: Kitchen Tales
My experience working in the kitchen! Who ate there? Who worked there? What were mealtimes like? What kind of food was prepared? Where did they get the food? I would like to interview Nancy Funk, a current volunteer who works in and often coordinates the kitchen. Alternatively, I could interview Scott Irvine, a ranger who also works in the kitchen. It would be fun to do this when I could record onsite and capture the background noise of the kitchen hearth, work being done, and other ambient noise.
Episode 9: Gardening the Wilderness
We now know (from episode 8) that the kitchen is supplied by the fort garden, which is recreated in the modern day at a miniscule size, comparatively, to how it was. I would use work done by Jim Pestillo, a former volunteer, and another interview with Nancy Funk, who is in fact a Washington State Master Gardener, to supplement this episode, because Nancy is a wealth of information.
Episode 10: Husbandry in the Wild
We can't all live on plants forever—how did the HBC employees keep living their excellent English lifestyle while so far away? What kind of husbandry existed? Did they have dairy? Did they eat pork, or chicken, or beef? Where was that kept? Did they have methods of storing?
Format & Rationale: 
Each episode can range from about 20 minutes to an hour, dependent on the wealth of information available and whether an interview is included. Episodes should, theoretically build on each other, but some eras will have much more information to address than others simply due to accessibility of sources. Additionally, some information will be able to fit anywhere within the large scheme of things, and can be slotted in anywhere, likely just to provide context on the era, the people discussed, or other day-to-day experiences. There is one main host, who will occasionally host casual interviews with people with more experience than them in specific subjects. Ideally, the podcast will be relatively informal, with narration to set scenery.
POV/Approach/Style/Voice & Rationale: 
The POV is set from an experienced living history interpreter with a background at the Fort Vancouver National Historic Site. By the time the podcast goes live, I will possibly have graduated with my B.A. in History, as well, and can use that background to access and disseminate information from tricky or difficult to access sources, which can provide more information in an easier way for the average person to digest.
I want the episodes to have a narrative, story-telling style introduction, to set the scene for each episode's topic, and I want the interviews to be casual and friendly, to make it seem that the interviewee is approachable to discuss these topics. However, I don't want to make mistruths commonplace, so I want to remain reputable throughout that.
Episode Frequency & Rationale:
The frequency of the episodes should be weekly or biweekly, organized in a relatively chronological order by era. They should build upon each other so that a person can listen to the story in a consecutive order, to have the context for the next topic as best as possible. However, episodes will be themed around specific topics, so that a person can jump between eras to find what interests them the most.
About the Host: 
I think I will do an "episode zero", where I introduce myself to my listeners as a student of history, an experienced park volunteer, and explain just what all I have done there since starting out over 15 years ago as a child. I am serious and knowledgeable about the topics I love, but I am willing to ask for more information from those with more background in topics I don't have, and I think that my background makes me particularly well suited to the podcast subject simply from a passion for it. I am a good storyteller (I am told) and enjoy setting that background for people, but am also very comfortable with informal education, which is certainly what this podcast is meant to be.
Target Audience: 
My podcast is geared towards people with little to no background in Pacific Northwest History, as well as students who might be exceptionally interested in the site's history after a required class. It would also be an interesting podcast to current and former volunteers, who I think would give it a listen because of my identity and associations at the park. I believe the audience for the podcast will be unfortunately small, but I think it would be fun anyhow
Explain why your podcast topic, format, POV/style, episode frequency, and host identity are attractive to your target audience.
The length of the podcasts promises in-depth information, and the POV/style and my identity as the host help to form a source that people can trust to be as accurate as possible. Additionally, some people just enjoy learning, which I think will be easier with the frequency and style. 
Describe two ways you will reach your target demographic.
I would print business cards or pamphlets to be set in the visitor center and the contact station (where people gain admission) with a QR code, so people could share it. I would also ask the volunteer coordinator to share the podcast in the weekly volunteer updates email.
How will you develop a sense of community and belonging among your listeners?
The informal, casual tone I will be using will make the podcast very comfortable to listen to, and I would have very informal asides to try and build a camaraderie with the listeners. I would also make sure that listeners are included in any jokes, and would provide additional background information they might not have otherwise.
What kinds of folks do you anticipate will object to or dislike your podcast? 
I fully anticipate pushback from rangers who have no idea who I am (an unfortunate consequence of the pandemic and a very seasonal crew) and other professionals who believe the information is best gained onsite. I would anticipate that some people will not like my informal interpretation style as well, believing it should be presented in more of a lecture style.
What are some ways you can market your podcast to steer away folks who expect something different and will be disappointed? 
I think that the use of an episode zero introduction will help to prevent that—It would only be a couple of minutes long, and it's pretty likely that the listener would get a good gauge of my style, my voice, and the content matter from just that. I think that's my best bet.
Why is your podcast needed? 
It could be supportive as an interpretive tool for visitors to the site, who want to know even more after they've visited. It also would be helpful to people who have an interest before visiting, who might like additional information as background.
How many podcasts currently exist that are similar to yours? Name them. 
One: Confluence. However, Confluence doesn't specifically discuss Fort Vancouver's history in the way that I hope to. Most other podcasts which address the site are about paranormal activity.
Browse some of their reviews on Apple Podcast or other pod platform. What do people like or dislike about podcasts similar to yours?
I cannot find any reviews for Confluence.
How do you anticipate that your podcast would fare if the same folks were reviewing your podcast?
There aren't any reviews. I cannot tell if that's good or bad.
Are there any perceived holes or silences within your podcast's subcategory that seem like they need to be filled?
All of it. There doesn't seem to be any specific podcasts of this type at all, discussing specific sites and their history in the way that mine does.
How does your podcast address a silence or hole in the genre OR what does your podcast do differently than others that are similar?
This podcast would create an alternative method to learn local history to the area, and perhaps gain listenership. It could also, potentially, draw new crowds to the site.
What auxiliary components would you launch alongside the podcast? 
Explore the auxiliary components created by other podcasts. Feel free to use the podcasts you explored in the first two weeks of the course for this part of the assignment. What kinds of add-ons do they have?
I know that other podcasts in the past have used a website or blog to supplement their podcasts, either by creating a post with their references or works cited for the content, or by just adding additional information they simply didn't have time for in the podcast.
Which auxiliary components would best suit your podcast and your target audience? Why?
I think that a blog post or some such similar format would be the best, because then pictures could be included, as well as the works cited, and even a transcription of the episode. I would want it to be accessible in this way. 
How might you made your podcast more accessible for people with disabilities or some other disadvantage that prevents them from accessing your content readily?
I think that using the descriptive narration will help in some sense, to create a picture in the mind of those who are blind, and to provide a transcription would help those who are deaf. Additionally, creating this podcast will help those who are mobility-disabled, because it can make the site accessible for those who cannot visit. While the site itself is actually fairly handicap accessible, there are still those who will never be able to visit even with that.
Describe some of the feedback you received in your peer reviewers and what you did to address these criticisms: 
I had one reviewer comment on confusing phrasing, which I then edited to clarify or to completely omit. Most of my peer reviewers seemed to like the tone I was taking. An additional review I had from my mother and sister (also versed in the subjects) was that it was too "number-y" and that I concentrated too hard on dates, so I have decided to omit some of those, because when I re-read, it distracted from the other content and commentary.
Describe some of the feedback you received from the instructor and what you did to address those criticisms: 
The feedback from Dr. Rhodes was that the podcast was going to be longer than I had originally anticipated, but upon further consideration I have decided I don't mind that and have adjusted my expectations accordingly.