Blog post and podcast by Gene Gravett
My name is Gene Gravett, and I'm non-binary—my pronouns are they/them. I am graduating this spring with a major in History and a minor in Political Science through the Starbucks College Achievement Plan. I hope to be accepted into a Master's Program in Education Policy after a year off from school. When I read through the syllabus before the course opened, I was very excited to see the topic for this class because I love podcasts and listen to them daily. Mainly, I listen to news pods as well as some history pods, like George Carlin's Hardcore History. As part of my major's requirements, I have studied German for two years, so I wanted to incorporate this into my research. I have also always been interested in The Grimm Fairytales, and I've wanted to read them in their native German since I found out that so many of the most famous American children's stories and movies are based on these tales.
My podcast, The Brothers' Grimm Stories, traces how these stories changed over time (namely by becoming less violent over the years) and how the world changed with these stories. The pod didn't change significantly throughout the session other than that they ended up twice as long as I was shooting for. They turned out to be medium-format (between twenty and forty minutes long). I expected the podcast-making process to be labor-intensive, but I have found editing far more time-consuming than I initially expected. As a result, I've gained an even deeper respect for the podcast medium. I've really enjoyed this class because I love podcasts outside of school, and I think history podcasting would be fun to pick up again one day. I hope you enjoy The Brothers' Grimm Stories!
I've been both an academic historian and a history podcaster for about six years. I love doing it and I am constantly confronting the inconsistent (and sometimes conflicting) skill sets required for my parallel roles. I chose the topic of history podcasting for my HST 485 History in the Wild course and designed the course to be as collaborative and applicable as possible to their real-world needs. ASU's humanities students deserve to take courses that harness their passions and natural curiosities so that building a wide variety of skills (our end goal) doesn't feel like work. The podcasts that resulted from this course exceeded my expectations. –Dr. Marissa Rhodes, professor of HST 485: History in the Wild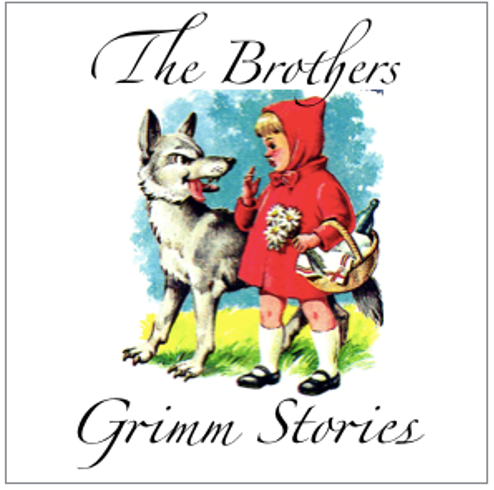 Tagline: "Alles ist miteinander verbunden, " or "Everything is connected."
Title: The Brothers Grimm Stories

Podcast Topic: This podcast will be tracing the evolution of The Grimm Fairytales, from their beginnings in Children's and Household Tales (Kinder und Hausmärchen) to the Grimm brothers' final editions to their modern (and sometimes famous) retellings. Additionally, I will dive into the times from which these stories came, and what the changes they underwent over time tells us about how the world has also changed. In the first episode, I will give an overview of the collection of stories, while the second will be focused on the evolution of one of the most famous stories in The Grimm Fairytales: "Snow White."

Titles and descriptions of your two sample episodes:
"Episode 1: A Grimm State of Affairs" will serve as background for a series on The Grimm Fairytales. It will focus on three facets of the German experience in the nineteenth century: (1) the geopolitical context which culminated in German unification, (2) the rise of Neo-Pietism in the German states, (3) and the German Romantic Movement. All of these movements were in response to Enlightenment thought emanating from Napoleonic France and influenced or were influenced by The Grimm Fairytales. I'll also talk about the Brothers Grimm themselves from their childhood to their other notable works. Of course, I also include an overview of the tales themselves and the reasons why they edited on multiple occasions from 1812 to 1857.
"Episode 2: Little Snow White, Sneewittchen" will be my first covering a famous story from The Grimm Fairytales, Snow White. The podcast opens with the original tale published in 1812 and an explanation of its original title. Then, I'll point out the changes made by the Brothers Grimm in the 1857 edition. Once the Grimm edits are covered, I'll talk about what is most likely its most significant retelling: Walt Disney's animated film, Snow White and the Seven Dwarfs, and how the tale was further modified. Finally, I'll access the way both Germany and the United States have changed over the decades between the first publication of "Little Snow White" in The Grimm Fairytales and the 1937 Disney rendition.

Topic Ideas for an additional eight episodes:

"Sleeping Beauty (Dornröschen, Little Briar-Rose)"
"Cinderella (Aschenputtel)"
"Red Riding Hood (Rotkäppchen, Little Red-Cap)"
"Rapunzel"
"Rumpelstiltskin (Rumpelstilzchen)"
"Hansel and Gretel"
"The Frog King (Der Froschkönig/Eiserne Heinrich, Iron Henry)"
"The Pied Piper (Der Rattenfänger von Hameln)" ***from Grimms' German Legends

Format & Rationale: Because most bedtime stories run between ten and fifteen minutes long and my commentary on these stories will be about equal with the length of the story themselves, these episodes will be medium format—between twenty and forty minutes long. I'll be the sole host diving into classic tales by reading them, explaining their evolution, and providing them with historical context. There is a possibility guests could join me, such as Modern European historians, or experts on folklore who I could interview in order to answer listener questions.

POV/Approach/Style/Voice & Rationale: I plan on balancing historical and story-telling components: the first episode will be heavier in historical background while the rest of the episodes will have more time devoted to both reading these stories and describing their evolution. Reading a story, then giving historical background naturally breaks up the style in which I'm delivering the material and is aimed at maintaining the audience's interest and attention.

Episode Frequency & Rationale: I feel that, once I get into the rhythm of it, a weekly or bi-weekly cadence would be an adequate period of time for me to read multiple editions of a given story, conduct research, write a script, and then record and edit the pod. Each episode would focus on a new fairytale until the most famous stories (or even until all approximately 200 tales) are covered. Additionally, this podcast could even explore stories which have come from other nations and how those stories have influenced history in ways similar to The Grimm Fairytales.

About the Host: I'm majoring in History and minoring in Political Science. I'm incredibly interested in modern European history, and I've studied German for two years. Additionally, I'm interested in world politics and how (sometimes seemingly benign) supranational interactions or interactions within states can trigger consequential global events which are discussed in this podcast.

Target Audience: I (along with many other people) grew up watching children's movies based on the Grimm brothers' works, and have always had an interest in reading them and seeing how their often violent first editions became the classic "princess" movies (i.e. Rapunzel and Snow White) we know today. I hope to attract listeners who grew up watching these movies and also love history, especially Modern European history, by showing how the stories we tell shape our cultures and national identities. Though many people who have watched these American classics know their origins, they often haven't heard the stories in their "Grimm" form.

Explain why your podcast topic, format, POV/style, episode frequency, and host identity are attractive to your target audience: For those interested in what the stories sounded like in their original form in addition to the history from which the story came, the structure I used of cutting them up into fairly equal portions is done in order to maintain the interest of the audience by providing a natural place to change the pace of the pod. Additionally, releasing an episode once a week or two would allow me to even ask for listener requests on the next tale I should cover.
Describe two ways you will reach your target demographic: I'll have a website as well as social media accounts for the pod: Twitter for announcing when new episodes drop to asking for and receiving listener questions, and Facebook for all other potentially interesting material relating to the pod.
How will you develop a sense of community and belonging among your listeners? I'd hope my listeners would interact on these social media pages as well as the pod website. I could potentially create a community forum on this site as well.
What kinds of folks do you anticipate will object to or dislike your podcast? I expect that not everyone will like the historical aspect of the pod—potentially those who want to listen to a podcast closer to Grimm Reading (which I mention later).
What are some ways you can market your podcast to steer away folks who expect something different and will be disappointed? I have included something of a tagline at the beginning of my scripts—"together we'll trace how children's stories from The Grimm Fairytales have evolved over time and what that tells us about how our world has also changed."—to give an indicator that there is a historical aspect to my pod to prepare listeners. I also feel this line sets up the structure of my pods which is reading the story then commenting on it.

Why is your podcast needed? I hope to use this podcast to show how everything is connected: history, culture, national identity, and children's stories, as well as to teach those who are interested more about the stories they grew up hearing or watching.
How many podcasts currently exist that are similar to yours? Name them. There are some podcasts which are similar to mine. One is called Grimm Reading, during which one fairytale is read and then reviewed; however, it does not have a cultural or historical aspect. Another is called Grimm, Grimmer, Grimmest which is geared more toward children and also merely reads the story.
Browse some of their reviews on Apple Podcast or other pod platform. What do people like or dislike about podcasts similar to yours? Because I could not find another pod which was similar to the one I propose in relation to The Grimm Fairytales, I looked at the podcast reviews for a pod which I want to try to be guided by: The History of Byzantium. The structure and length as well as the content fit with what the listeners liked about Pierson's work.
How do you anticipate that your podcast would fare if the same folks were reviewing your podcast? I think would sooner get positive reviews from those who listen to The History of Byzantium than those who listen to Grimm Reading. This shows why this pod is needed: there isn't a podcast available right now linking stories to history in a way which brings history to life in the way stories can be.
Are there any perceived holes or silences within your podcast's subcategory that seem like they need to be filled? This podcast, in the first two episodes will only begin to scratch the surface of historical background concerning the interplay of states around Germany in the nineteen century which led to existential outcomes in the 20th century and leaves much more room to give more historical background with these other stories in future episodes.
How does your podcast address a silence or hole in the genre OR what does your podcast do differently than others that are similar? These German fairytales, though many Americans don't realize it shaped our childhoods and formed our values in a way very similar to those of German children in the nineteenth century. In this way, I hope to show that everything in the past is connected to us and our present day.

What auxiliary components would you launch alongside the podcast? I'll be including transcripts of the pods which will have some additional resources and documents attached to them. Those will include maps of Central Europe spanning the lives of the Brothers Grimm and a Works Cited. I could also add a few more resources such as links to copies of The Grimm Fairytales which are available online.
Explore the auxiliary components created by other podcasts. What kinds of add-ons do they have? Again, I'm hoping to fashion a website similar to that of The History of Byzantium's. Maybe one day I could have a sponsor connected to the website like Pierson does in addition to the other components below.
Which auxiliary components would best suit your podcast and your target audience? Why? I'm including maps and a works cited, as well as links to the original stories which are translated into English and available online on a website which listeners can be directed to via the show notes in their podcast app of choice. The show notes will also include my attribution to Zapsplat for the music and Shutterstock for the image used in the cover art.
How might you made your podcast more accessible for people with disabilities or some other disadvantage that prevents them from accessing your content readily? In addition to the aforementioned components, I'll be including full transcripts of each of my podcasts (which include, at times, multiple editions of the stories as well). Anyone with a phone or internet access via a Starbucks could have access to an audio or a written form of my podcast as well as supplemental material.

Describe some of the feedback you received in your peer reviewers and what you did to address these criticisms: I added some additional sections, like a summary of Episode 1 in the middle of my second episode, after it was recommended to me by a peer. Additionally, like one of the suggestions I got from a peer, I had to extend the length of my podcasts in order to fit in all the information. However, I feel most of the feedback that I received from my peers was positive.

Describe some of the feedback you received from the instructor and what you did to address those criticisms: I tried a few different ways to structure my initial episode because of feedback I received from an instructor, but most of this feedback was also positive.